We understand that trading on the high street is now more challenging than ever. With reduced footfall and ever-changing restrictions, businesses are having to adapt to survive, adjust priorities, and find new skills to deal with unexpected situations.
Now more than ever we need to support and protect the future of our high streets, including Nottingham city centre's small independent businesses. We must help them survive and thrive so they can continue to provide a diverse offer. Whilst it is certainly not easy for the large chains either, they have a built-in support network that many small independent businesses do not. The aim of this page is to summarise the support that is available to small businesses trading on Nottingham's high streets.
Business support organisations have adapted and developed projects to help small businesses and there is plenty of support available out there, including one-to-one support, workshops and webinars, networks and other resources – all designed to help your business adapt to the challenges of COVID-19. Please read on for details.
If you have any questions or can't find what you're looking for, please email NERU@nottinghamcity.gov.uk


ONE-TO-ONE SUPPORT FOR HIGH STREET BUSINESSES
Access general business support on reopening safely, COVID recovery and rebuilding. This will be in the form of a telephone service, one-to-one workshops or similar. Below you'll find information about organisations providing one to one business support and relevant contact details.

VISIT NOTTINGHAMSHIRE

Visit Nottinghamshire's expertise is predominately in retail, hospitality, leisure and tourism, but the one-to-one business support is open to all High Street businesses.

The team are providing general business support on reopening safely, recovery and rebuilding, complementing the work of city centre officers at Nottingham City Council.

Please get in touch with the team to arrange a call.




NOTTINGHAM CITY COUNCIL - CITY CENTRE & NEIGHBOURHOODS TEAM
The team provide general business support, advice and information relating to operating in Nottingham city centre and the neighbourhood centres.

The team can link you into business support and business growth projects as well as various Nottingham City Council departments to aid business operations. They are a point of contact for everyday trading issues with a dedicated Business Engagement Officer who is available to visit your premises most weekdays, as required.
Please get in touch with one of the team to arrange a call or a visit.

ONE -TO-ONE SUPPORT
Via the ERDF Reopening the High Street Fund Nottingham City Council are providing dedicated Business Adviser resource to provide one-to-one business support on reopening safely, information on COVID-19 recovery and rebuilding business and links into further business support.

Please email Alfred Bawak to arrange a call.


FOOD AND DRINK FORUM

Via the ERDF Reopening the High Street Fund the Food and Drink Forum are working with Nottingham City Council to provide specific services to SMEs in Nottingham. Services include:
- A triage telephone service for SMEs
- One to one technical advice (limited spaces) to help with allergens & labelling, food hygiene ratings, safer food better business, understanding COVID guidance including risk assessments and any other technical issues

Please get in touch to arrange a call.

D2N2 GROWTH HUB
The Growth Hub is available to support businesses with recovery, growth, productivity and sustainability. They do this by 'cutting through the noise' of the 100+ fully or part funded business support products available to get the right support for you.

If you would like to speak to an adviser, please contact D2N2 Growth Hub: complete an online enquiry form.
BUSINESS SUPPORT WORKSHOPS
A comprehensive list of business support webinars designed to help your business thrive, covering a wide range of topics including promotional marketing, diversity in the workplace, cash flow etc.
As high street businesses fight to keep customers engaged, many are looking to diversify their primary offer, whether through introducing new retail channels, exploring new markets or providing a new customer experience. In this section you'll find additional resources to support with business diversification, including useful contacts, weblinks and more.
Your business premises might no longer be suitable for your changing business needs.
Working closely with the main local property agents and business investment services, the City Centre Team can support your requirements and help find new, more suitable premises.
Please click here to email the team. 
Working alongside Nottingham City Council's established Nottingham Jobs service and partners in the D2N2 Growth Hub, the D2N2 Skills Access Hub is a new project funded through the European Social Fund (ESF). It will create bespoke skills training and development programmes for local businesses and their employees, helping evolving high street businesses to access training or other technical skills required to perform their changing roles.
To find out more about how to access skills support and training, please click here or email the team here. 
The Licensing team can provide advice and signpost you to relevant web-based guidance on regulatory compliance. 
Examples include licenses for temporary events, outdoor seating or to change premises licenses.
For more information please visit the website. 
You can contact the team on 0115 915 6571 or email them on:
As businesses make physical adaptations to premises to revise or provide new services or to enter new markets, you may require planning permission.
The Planning team can provide advice on planning policy, design (including the Design Review Panel) and highways.
If you are using the City Council's Building Control Service, they can advise on the Building Regulations alongside planning advice to ensure that both processes run smoothly.
Before submitting a planning application you or your agent are advised to contact the Planning team free of charge for an informal chat to discuss your requirements. They will advise whether you should seek further pre-application advice and whether a meeting would be useful.
Visit their website for more information or contact the Planning Team on 0115 876 44.
OTHER NOTTINGHAM CITY COUNCIL SERVICES FOR HIGH STREET BUSINESSES
In this section you'll find a selection of additional services to support high street businesses, including useful contacts, weblinks and more. 
Coronavirus (COVID-19) – Support for businesses inc. Business Rates and Grants. Please click here to find out more.
The City Centre (Development) Team – concerned with the economic development of the city centre, the team can provide support and information relating to business operations and growth in Nottingham city centre. They can link you into business support projects as well as various Nottingham City Council departments to aid day to day business trade.
The City Centre Management (Operations) Team co-ordinate the delivery of operational services within the City Centre including cleansing, waste management, uniformed services, enforcement and regulation, highways, events, markets and fairs etc and to problem-solve issues when things aren't working as they should.
Both teams are always happy to be the first point of contact into any of the Council's operational services and to engage with businesses directly if they have an issue that requires a front line solution.
To email the teams please click here.
The Workplace Travel Service business support package is available to businesses & other organisations based in Nottingham City. For details and to make an Expression of Interest please click here.
The offer includes grants of up to £25,000 to support EV charge points, cycle shelters, e-bikes, cargo bikes, real-time public transport screens and more.
For help and advice on getting staff to work by bike, on foot or using public transport, providing assistance with:
Safe walking routes
Public Transport routes & assistance
Cycle route planning and journey buddying
Free cycle training from RideWise qualified instructors
Dr. Bike – pop up (socially distanced) bike servicing to get you back on two wheels
Personal travel planning to improve your employees' commute – leading to improved staff health and wellbeing, minimising absenteeism, increasing staff retention and improving productivity
The new Electric Van Experience project will be up and running soon. Up to 50 electric vans available to loan, including comprehensive vehicle insurance and a free workplace charging point.
In addition, there will be a new e-Cargo bike service, with access to up to 8 e-Cargo bikes that businesses can try out for up to three months.
Property Services offer a Nottingham based sales and lettings agency service specialising in commercial land and property. For more information please click here.
Nottingham City Council understands the impact the Coronavirus pandemic is having on the commercial tenants and this link is here to provide whatever support they can for their commercial tenants.
If you are a commercial tenant of Nottingham City Council and currently pay quarterly, they can assist you immediately by moving you to monthly payment terms.
To change your payment terms or for any other enquiries or requests, please email their dedicated team where one of the team will respond to you at the earliest opportunity.
Please note all requests and enquiries will be treated on a case by case basis.  
A paid for, commercial service. On hand to deal with any matters regarding business waste collections and have a range of flexible options available for businesses. They are able to amend existing contracts if business for the client has declined from previous levels at no cost, and customers are able to reduce collection frequencies or reduce the container size, likewise as business levels increase these can also be changed.
This applies to any new business that contracts with them, and the Business Development team can discuss this further.
For more information go to their website.
In the first instance please contact the helpdesk 0115 915 211 or via email.
Energy services can offer support to help your business move to a more sustainable low carbon future.
Here are some examples of tailored support which can be provided:
Energy Assessments,
Energy Performance Certificates,
Support in installing renewable energy,
Energy Efficiency grants and practical advice.
Click here for general advice for businesses and a link to the business charter environmental checklist. If you have an enquiry please email the team here.
Offer verbal advice/signposting to relevant web based guidance on regulatory compliance. Please click here to find out more.
For more information about Food Safety additional offer please click here. 
Community Protection Officers are the first stage of community protection and wider Nottingham City Council issues covering areas like trade waste, food and alcohol licensing, street seating areas, on street enforcement.
Any requests for service is done via the NCC website – please click here. 
STAFFING AND TRAINING SUPPORT
Nottingham Jobs is the City Council's employment and skills brokerage service providing specialist support to employers and job seekers within Nottingham and its neighbourhoods. It is delivered in partnership with the DWP and Futures with funding from the European Social Fund.
Redundancy support – if you have already made employees redundant or are about to, Nottingham City Council's Job Hub can support both you as an employer and your employees to manage the transition through online group sessions and one-to-one support using Microsoft teams.
Training – Nottingham Jobs partners can deliver pre-employment training, licences or other technical requirements necessary for staff to perform the duties required in the new roles of your changing workforce. They can help address this through online learning platforms such as BKSB for Functional Skills and European Computer Driving Licence (ECDL).
Online recruitment support – linking their candidate pool with your workforce needs. They can source, assess and screen candidates according to your specification and assist you to engage with them, virtually. This includes promotion and advertisement of vacancies, application sessions, and candidate briefings on role requirements.
Candidate pool – working closely with DWP and other partners to support new claimants via employment programmes such as Way2Work. These activities will deliver a substantial pool of good quality candidates drawn from sectors that are contracting as result of the situation with COVID-19 and the Government's advice and restrictions.
Apprenticeship delivery – their apprenticeship offer to businesses is continuing. If you are ready to take on a new apprentice, or to support existing staff to begin a training programme, they can help you to understand apprenticeships, access funding including NCC levy transfers, keep your team engaged and get the right skills in your business. If you are adopting the Job Retention scheme your team can start or continue an apprenticeship training programme while they are furloughed.
Contact Nottingham Jobs on 0115 876 4508 (lines are open 9-5 Monday to Friday) or email the team on: jobs.hub@nottinghamjobs.com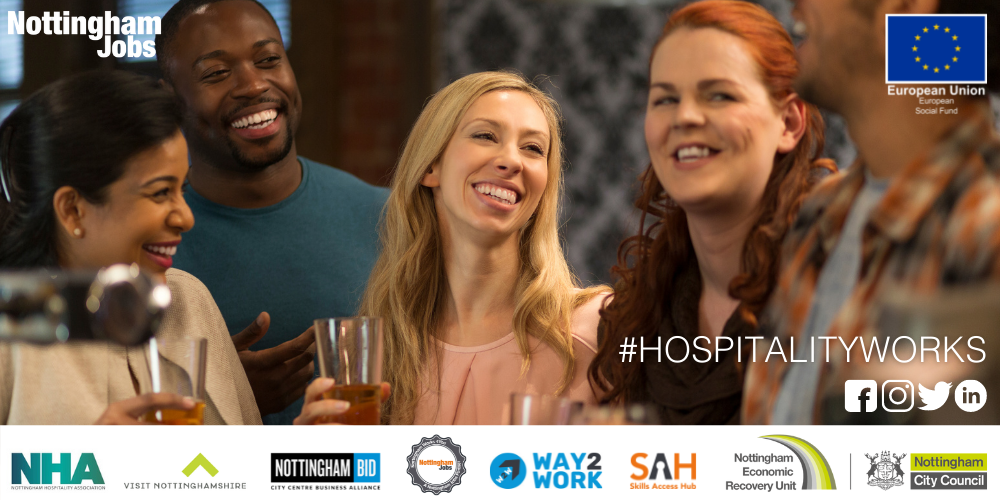 RECRUITMENT SUPPORT FOR THE HOSPITALITY INDUSTRY
Nottingham is a sociable city, with a thriving visitor and night-time economy and world-class attractions. At the very heart of this, Nottingham's hospitality sector has always made a huge contribution to the vibrancy of the city.
The hospitality sector also offers job seekers of all ages great opportunities to start and build careers in the industry.
Nottingham Jobs can provide a wide range of support to candidates looking for job opportunities in hospitality:
Searching for hospitality jobs
Writing a CV
Completing job applications
Interview preparation
Apprenticeships, training and skills for hospitality roles
Overcoming personal barriers
To access the above support please register with Nottingham Jobs here.
For latest hospitality vacancies please click here.
Free support for employers include:
Free promotion of vacancies via Nottingham Jobs website, social media, and within the community via our partners
CV sifting
Bespoke pre-employment Training
Call Nottingham Jobs on 0115 876 4508 (lines are open Monday to Friday 9am – 5pm)
SUPPORT FOR NOTTINGHAM'S INDEPENDENT BUSINESSES
Independent businesses are crucial for a thriving high street and a key part of Nottingham's retail and leisure offer. We are committed to recognising and celebrating their vital contribution to the local economy through the dedicated Independent City stream of delivery.
In this section you'll find a host of support information and materials for Nottingham's independent businesses, including branding that can be display in your shop window, a dedicated Facebook networking group, meet ups, pop up support and more.
In this section you'll find information focusing on wellbeing in the workplace.
A series of webinars designed to support your marketing and PR, with topics including website, public relations, selling online and more.
Promote your business and reach more customers by advertising on those promotional platforms.
Network with other businesses and share knowledge and experiences with one another by joining the below networking groups and platforms.
Additional resources to support businesses, including information about business rates and grants, research and insight, a business support pack and more.
Visit Nottinghamshire (the official Destination Marketing Organisation) offers: