New images have been released today of the refurbished Nottingham Tourism and Travel Centre off Old Market Square, dubbed "an exciting new tourist hub" by city tourism bosses. The Nottingham Tourism and Travel Centre reopened to the public on April 12 in line with the lifting of lockdown restrictions.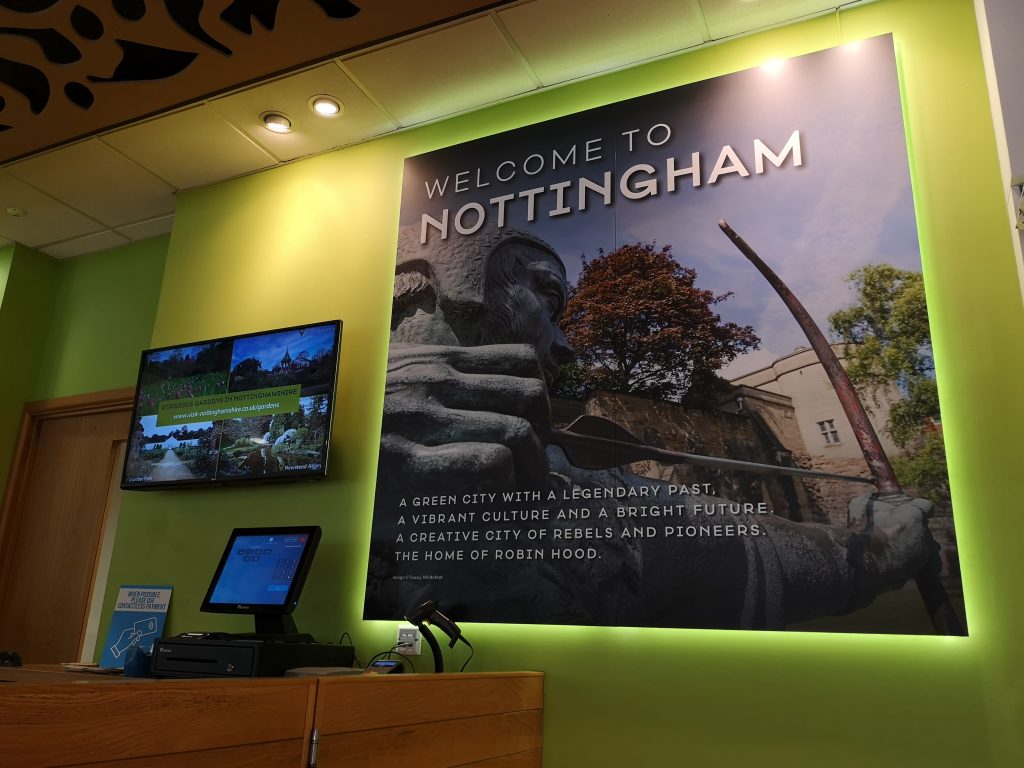 The Centre includes brand-new displays introducing Nottingham as "A green city with a legendary past, a vibrant culture and a bright future. A creative city of rebels and pioneers. The home of Robin Hood." Many of the new displays focus on Nottingham's most iconic heroes and attractions – including, of course, its famous outlaw hero, with visitors encouraged to snap a selfie with award-winning Robin Hood Town Tour guide Ezekial Bone.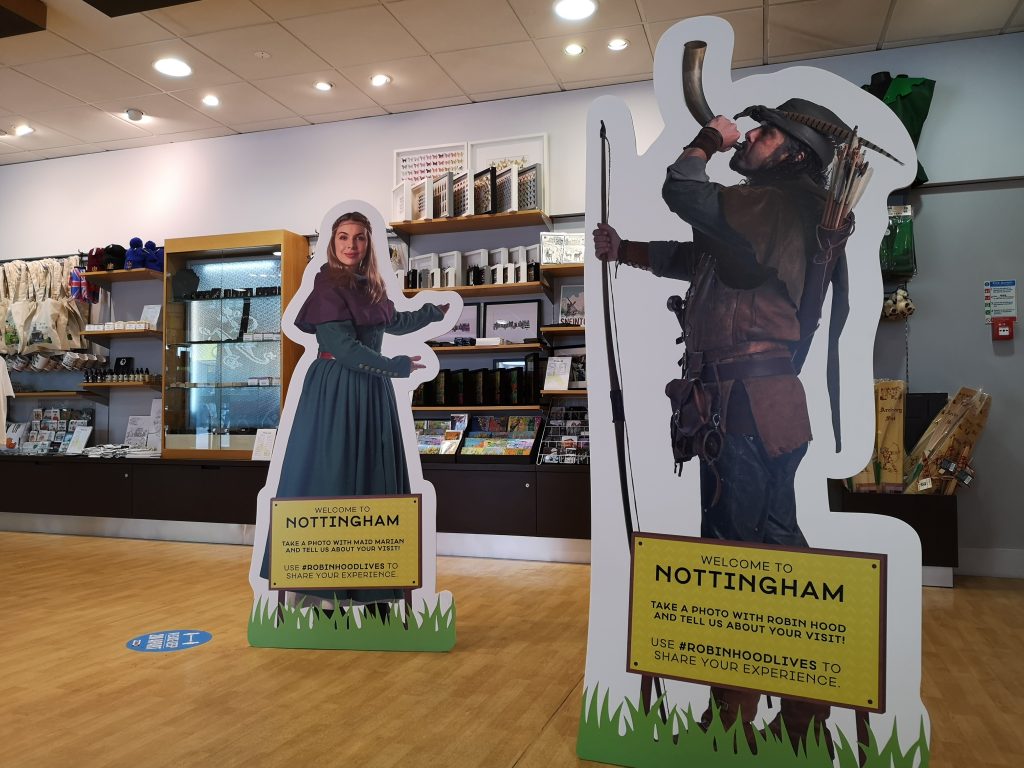 The makeover also helps to showcase the recently overhauled range of over 250 artisan products and souvenirs, many of which are inspired by Nottingham's striking landmarks and vibrant culture.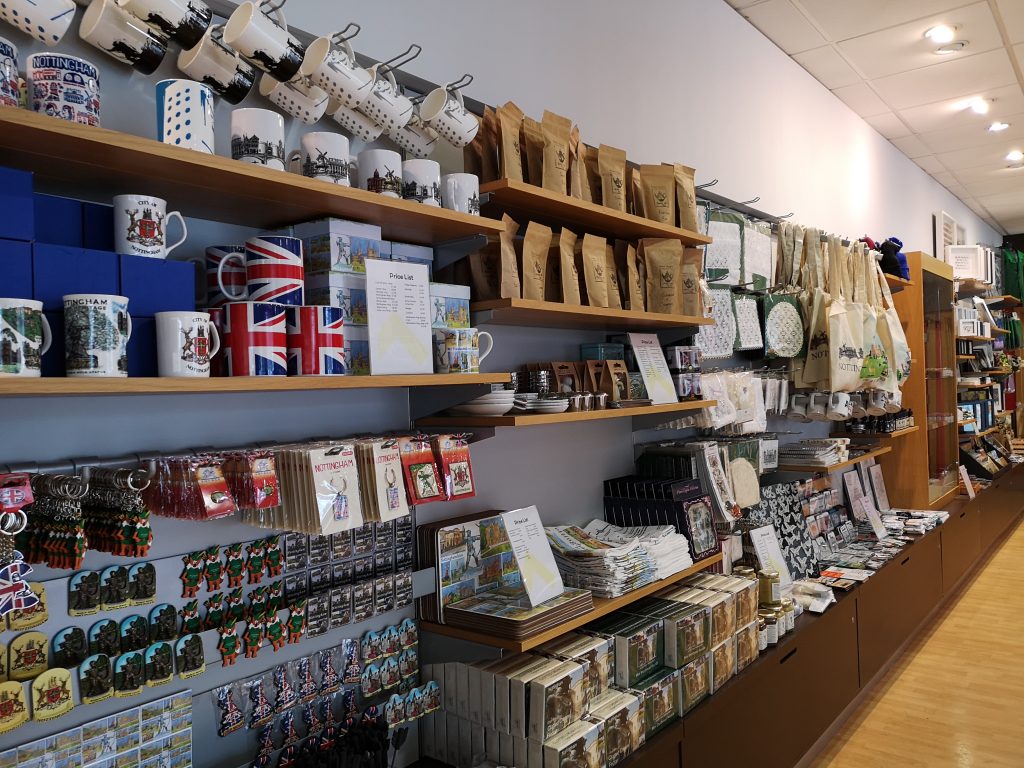 The new central location for the Travel Centre will be more convenient and accessible for locals and tourists alike, encouraging them to make use of Nottingham's award-winning, clean and green public transport system and also helping to increase footfall to the Tourism Centre and surrounding businesses. Whilst the Tourism Centre had been closed due to the nationwide lockdown, it is hoped that the refurbishment and relocation of the Travel Centre will boost visitor numbers in the months ahead.
Kinga Kapias, Marketing and Communications Manager at Visit Nottinghamshire, said:
"It has been fantastic to see this relocation and refurbishment taking shape, ready to welcome tourists and locals as lockdown restrictions lift this April. Having the Nottingham Tourism Centre and the Travel Centre sharing the space is set to benefit both organisations with increased footfall and wider staff knowledge and expertise. It also makes sense from a tourist's perspective, since they can now find out about everything there is to see and do in Nottingham and Nottinghamshire, and also how to get there. The new Nottingham Tourism and Travel Centre on Old Market Square will sell tickets for events and attractions, transport tickets and travel cards, Nottingham-themed souvenirs and Nottingham Forest FC merchandise – making this a wonderful tourist destination right in the heart of the city."
Simon Redgate, the Manager of the Nottingham Tourism Centre, said:
"We're very excited to be partnering up with the Nottingham Travel Centre, and to welcome both locals and tourists back through our doors ahead of what is likely to be a huge summer for Nottingham as the tourism and hospitality sector opens – including Nottingham Castle, which will attract thousands of visitors to the city once it reopens. This relocation and refurbishment has helped to breathe new life into our store, creating an exciting new tourist hub that Nottingham can be genuinely proud of."
Councillor Adele Williams, Nottingham City Council's Portfolio Holder for Transport, said:
"We're really pleased to reopen the Travel Centre in a more central location, making our award-winning public transport networks more accessible and convenient for both visitors and residents.
"Our public transport is something to be proud of, and we want to encourage people to use it as part of their visit to the city. Offering our services alongside the Tourist Information Centre will make it easier for people to find information and advice to help them get around.
"We're planning to build on this by including more information on walking and cycling, such as trails and maps, and information on cycle hire, to provide a one stop shop for visitors to Nottingham, as well as a useful hub for our residents and commuters."
Posted on 20 April 2021