Tourism and inward investment are hugely significant contributors to the Nottingham and Nottinghamshire economy. Market research and insight is a good indicator of their value and here you'll find the most recent data we have access to.
TOURISM DATA FOR NOTTINGHAM & NOTTINGHAMSHIRE
Volume and Value of Tourism
The Scarborough Tourism Economic Activity Model (STEAM) 2019. This will give headline information about the volume and value of tourism in the city and county with a breakdown of spend.
---
Visitor Attraction Surveys
This survey is conducted annually by England's national tourist board, Visit England. The results bring together visitor figures and identifies trends in terms of popularity of visitor attraction types.
Latest Visitor Attraction Survey information can be found here.
---
Hotel Occupancy data
STR Nottingham occupancy rate matrix 2019-2021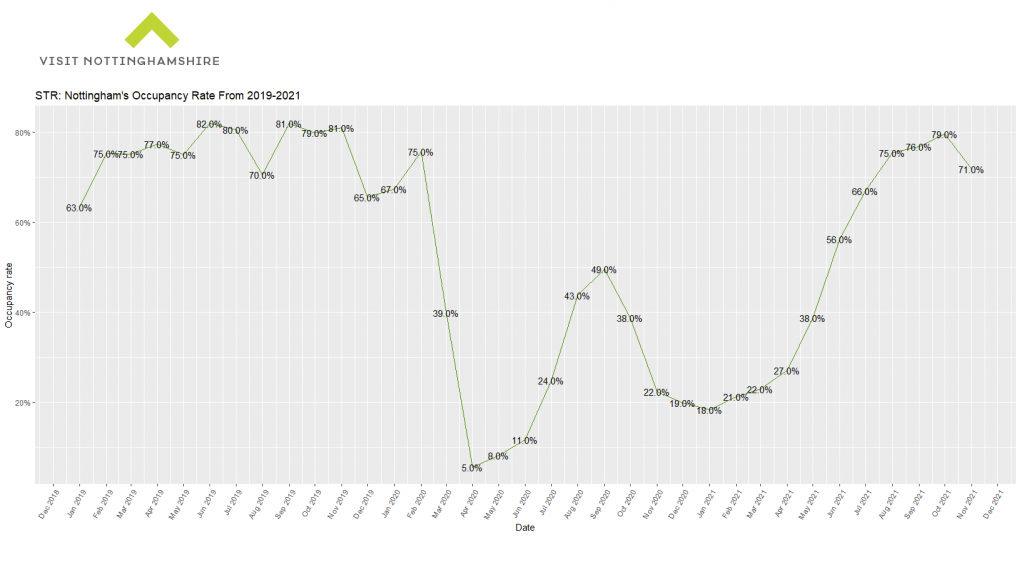 ---
COVID-19 Impact Surveys
Marketing Nottingham conducted research to understand the impact of COVID-19 in Nottinghamshire. This research had two primary strands:
Visit Nottinghamshire worked with Nottinghamshire County Council on a business survey to understand how COVID-19 had affected local tourism businesses. See the findings here:
Visit Nottinghamshire also created a consumer survey to understand how COVID-19 had affected consumer attitudes towards visiting Nottingham and Nottinghamshire. See the findings here:
---