It's the return of Light Night this Friday and Saturday with free activities for the whole family, right across the city centre, offering locals and visitors alike the chance to explore the 'Rebel City' after dark. There are over 50 stunning light-based installations and attractions to enjoy created by local artists, performers, students, and community groups.
Highlights for this year include two pieces at St Mary's In the Lace Market: In the grounds will be The Telling of the Bees which is a magical sound and light installation, drawing on the curious myths and extraordinary facts about bee behaviour and the nature of their collective intelligence. Inside the church will be States of Matter. This commission explores the varying states of water from ice to steam through this immersive light and sound installation which will take over the whole church. The piece questions our fragile relationship with water, while examining its natural cycle.
At the heart of the city in Old Market Square, Nonsuch Studios present Rebel Heart – A wall of sound, light and projection that speaks of the power of change and shares the need for rebels in all walks of life.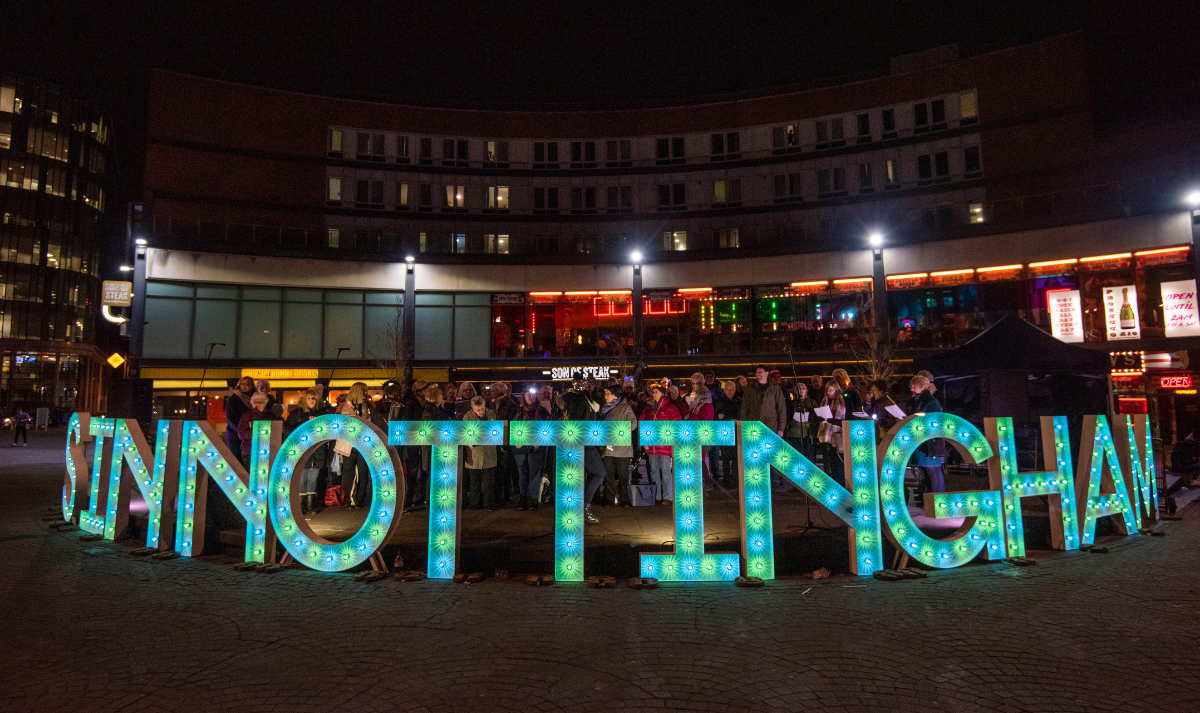 Live music performances in Trinity Square on Friday include, a sing-along with the Fun Chorus (6 – 6.45pm) as they belt out popular songs. They are followed by the Tuneless Choir (7 – 7.45pm) promising rebel-themed classics. The late slot goes to the Laefer Saxophone Quartet (8 – 8.30pm) – which will then go on to perform at a late show at the Royal Concert Hall. On Saturday, we defy you not to smile as Nottingham Ukulele Orchestra takes to Trinity Square with performances at 6-6.45pm and 7.15-8pm.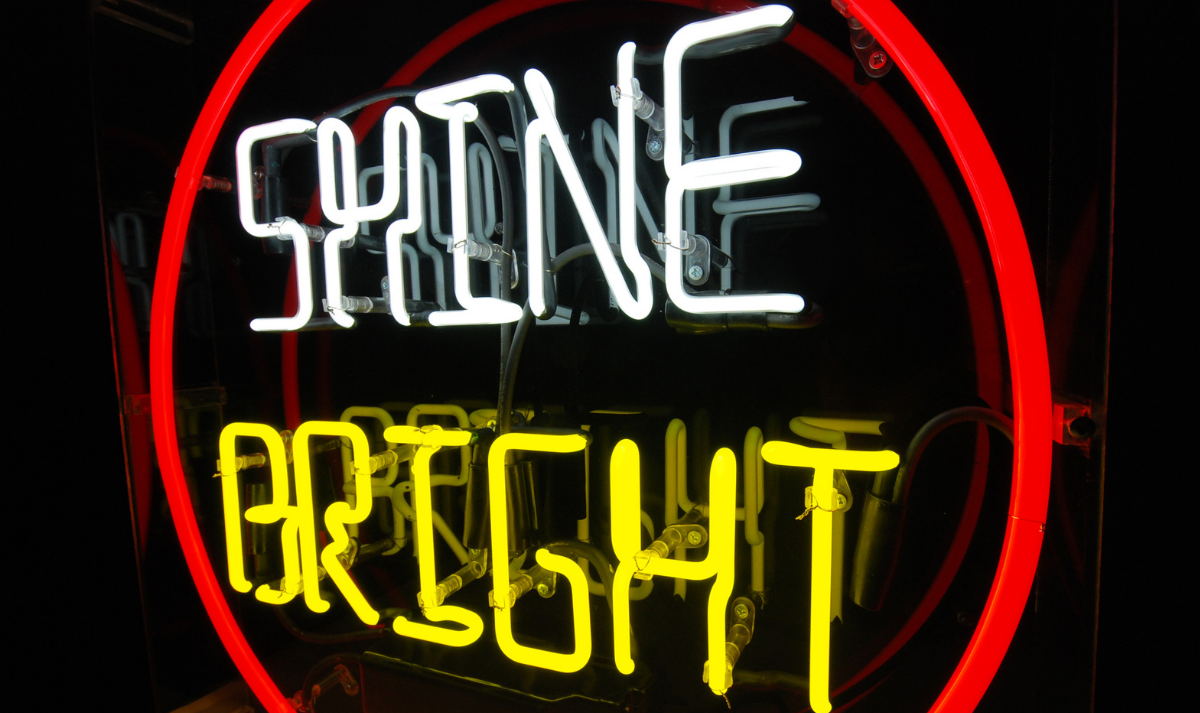 Guaranteed to be a great site for atmospheric photos is the installation from Nottingham Artist Raphael Daden who has created Words of Reflection on Lister Gate – a series of neon signs, giving messages of positivity and reflection. Part commissioned by Nottingham Light Night, two new signs on the theme of Rebel City have been created. ONCE A REBEL – a quote by Nottingham filmmaker Alan Sillitoe, from his work Saturday Night and Sunday Morning. And FEAR LESS relates to the fearless attitude the Luddites had in the City of Nottingham.
Having seen more than its share of rebels…Nottingham Castle with production company AndNow presents Fire Garden where visitors can watch the grounds come alive with a fire display like no other, evoking the spirit of many rebellions, riots and royal rows that have taken place over the past thousand years. Although this free ticketed event is now sold out, some walk ups will be accepted on the night. At the Robin Hood statue, Seeley School has created beautiful lanterns by decorating recycled glass jars. The glass jars create a blaze of colour and symbolise a flicker of hope coming out of this difficult time, raising people's spirits.
As ever, Hockley will be bustling creativity. CMYRGB at The Carousel is a workshop that runs alongside an interactive exhibition. Participants will make artwork in CMY colours along one of the themes of Nottingham's Rebel past. While you are there, perhaps you will spot The Dragon and Her Keeper on a walkabout from City Arts, as she wonders the streets of Hockley looking for the battlefield. This enchanting, life-like like dragon puppet accompanies her trusty keeper who hopes to one day be a real knight. Performances are between 5.30-6.15pm, 7-7.45pm, and 8.30-9.15pm each evening.
Over at Nottingham Contemporary, take in the Hopepunk large scale textile banners inspired by a recognition of Nottingham's unique historical legacies of protest, as well a projection of future aspirations by and for young people from the city. There is also a dance performance from URBN X: SRG which is Tom Dale Company's annual youth dance project – Urban Explorers. The company is working in partnership with Inspire Youth Arts. Four youth dance groups will perform alongside professional dancers combining visual art, projection and integrated dance celebrating movement and technology. This free ticketed event is now sold out but check for walk ups on the night.

Light Night at Sneinton Market is brought to you Carnival-style with a Brazilian Carnival Light Parade around the avenues of Sneinton Market on Friday from 6.30 to 8pm. On Saturday, there are Samba, Capoeira and Soca dance workshops at the Brazilian Cultural Centre dance studio, Unit 18 Sneinton Market. From 5 to 8pm. The markets each evening will include laser Light shows, live UV graffiti, food, drink, music and the remarkable 'Fire Head' – a sculpture filled with 150kg of sustainably produced charcoal which burns for approximately 5 hours. It stands over 2 metres tall and is surrounded by large candles with an equal burn time radiating warmth and light.
Organised by Nottingham City Council and sponsored by Nottingham Business Improvement District (BID), the organisation behind It's in Nottingham; the event is also being supported with funding from the National Lottery through Arts Council England, some of the funding available nationally from the European Regional Development Fund (ERDF) – The Welcome Back Fund, community groups, and city venues.
The best way to plan your evening is to download the app which has the most up to date activity information. There is a free download for either Apple or Android. The app lists activities by day and time but you can also filter by categories. An interactive map will also point you in the direction of activities and installations near you and you can give feedback on what you've seen. The app also has some 'roar'some augmented reality with a chance to get a pic with the Council House's left lion – Leo.
Nottingham Tourism Centre will be open until 7.30pm on both nights for up to date information on Light Night, to collect an event map, or get help to download the official event app. You can also donate to future Light Night community-led installations.

Plus, the Light Night Market will be on Long Row/Smithy Row 10am-10pm featuring a hand-picked selection of Nottingham's best street food and independent traders.
People visiting the city for Light Night are asked to continue to take steps to stay safe from Covid-19.
Although restrictions are easing, cases of the virus remain high in Nottingham and so people should still think about what they can do reduce the spread of Covid.
The advice remains to take a rapid lateral flow test at home before going out, continue to wear a mask in busy indoor spaces – particularly on public transport – and get vaccinated.
The asymptomatic testing team will have a mobile unit at Light Night, both days between 10am until 9.30pm on both days. The unit will be situated on Smithy Row.

Cllr David Mellen, leader of Nottingham City Council said:
"I'm delighted that Light Night, after last year's cancellation, is once again able to open up the city and offer some fun and some warmth on two wintery evenings. It is a great free event, especially for families with young children. I'm looking forward to seeing our proud Rebel City out in force."
Alex Flint, chief executive officer of Nottingham Business Improvement (BID), sponsors of Nottingham Light Night said:
"Light Night has been a huge success in previous years. Each one has been designed to build on the one before and offer unique, innovative experiences for our communities and visitors to the city centre. After such a long period of uncertainty, we are excited to support the event again and can't wait to see the city lit up again on Friday 4 and Saturday 5 February. The event brings in a large number of people and families, which is a huge benefit for businesses within the BID area."
Find out more about this years Light Night on the Visit Nottinghamshire website here.
Posted on 04 February 2022